Surviveware's Small First Aid Kit Receives High Marks as an EDC Must-have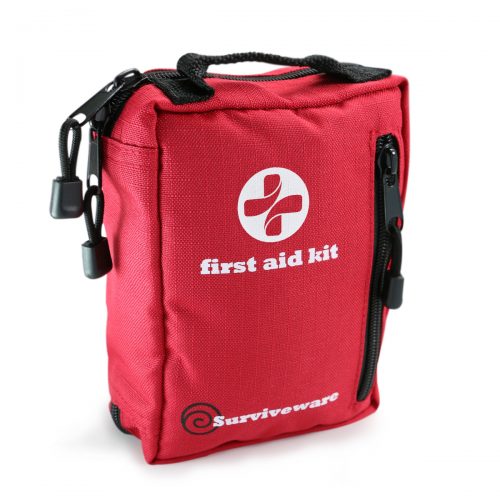 Woodbridge, United States - December 17, 2018 /MarketersMedia/ —
Accidents don't happen at a designated place and time. They occur in the most unexpected places during the most inconvenient times. With uncertainty the only certain, it is crucial to have a first aid kit on hand should things go awry.
There is a growing awareness of the importance of EDC or "everyday carry," those items which people carry with them on their daily routine. In addition to being a part of one's lifestyle, EDC items help ensure that an individual has the minimum level of preparedness should a disaster or accident occur. Everyday Carry includes the basic survival items that a person carries on a daily basis such as a multipurpose tool, flashlight, or a watch. This "always prepared" lifestyle has pushed people to invest in items such as first aid kits that fit their needs and desired level of preparedness.
A leading retailer of camping and hiking preparedness gear, Surviveware, has released a small first aid kit ideal for EDC. The kit is designed to be compact and convenient for everyday use. Moreover, it contains the most commonly needed supplies in emergencies and critical situations.
The Small First Aid is made of durable 600D Polyester fabric which is sturdy and water-resistant. Unlike bulky and heavy plastic first aid kits, this pack is durable and lightweight. It easily fits into a backpack or glove compartment. Moreover, as it comes with MOLLE-compatible straps, it can strap onto backpacks, tents, hammocks, and service dog vests. This convenience allows the kit to be carried anywhere without consuming too much space.
A favored feature of the Surviveware small first aid kit is its unique labeled compartments. The label on the kit's inner piping helps in the easy identification and organization of the supplies. Moreover, the tags provide relevant information regarding the contents and use of each item.
Despite its size, the small first aid kit contains 100 life-saving medical supplies that can be used to treat injuries and wounds. The pack includes a wide variety of bandages, gauze pads, steri-strips, and cleansing and antiseptic wipes. These items can be used to patch up cuts, scrapes, and lacerations. The kit also contains first aid items such as nitrile gloves, splinter probes, tweezers, triangular bandage, and a tourniquet. Cleansing, antiseptic, and sting relief wipes are also included in this compact kit. All of these supplies are secured in resealable laminate pouches that help keep the items fresh and dry.
Surviveware's Small First Aid Kit is currently rated Amazon's Choice in its category and sought by survival enthusiasts, campers, trekkers, and even EMTs. People who are in need of a kit that can fit their active lifestyle rely on this kit for their emergency needs. This is evident in a review written by Julie, a Surviveware Amazon customers, who wrote, "Lots of stuff in this little pouch for first aid, mild trauma, and most importantly CPR. Good to have in an emergency kit in your car, a bug-out bag, or a large EDC backpack. I added onto mine with a vial of Neosporin To Go which I have clipped to the bag using a little clip. This is a good supplement bag for someone who is trained as an EMT or in First Aid to keep handy in case of a minor injury. I keep mine in my backpack, and it has come in handy a couple of times already."
Join the many individuals who rely on Surviveware for their hiking, traveling, emergency, and survival needs. Order one today and enjoy a 20% discount by using a Surviveware Amazon coupon.
Grab one today here and don't be left behind!
Contact Info:
Name: Amanda Condry
Organization: Surviveware
Phone: 703-910-5188
Website: https://surviveware.com